Successful Flemish directors used to face a dilemma: settle for a safe career at home, or take the risk of moving to Hollywood. But the present generation can have it all.
The traditional way for a Flemish director to win international success was through the top international film festivals, hopefully followed by an Oscar nomination. This worked for Felix van Groeningen, when the festival success of The Misfortunates was followed by an Oscar nomination for The Broken Circle Breakdown. After a fifth Flemish feature, Belgica, he is now finishing his US debut, Beautiful Boy.
Michaël R. Roskam seemed to be on the same track when he followed Oscar-nominated Bullhead with his US debut feature The Drop. But his next move, to the series Berlin Station, was not part of the playbook. He directed the pilot and second episode of this contemporary spy story, and took an executive producer credit. After that he returned to Belgium for his third feature, Racer and the Jailbird, and now has an HBO series Buda Bridge in the pipeline.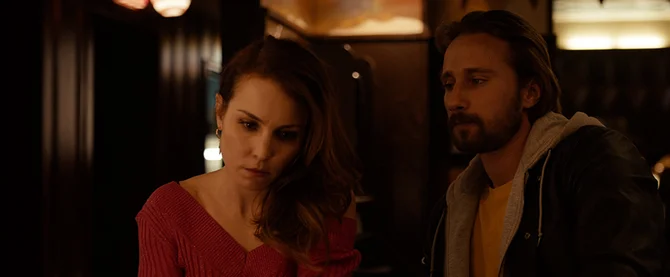 The Drop ©
This mixture of European and American productions, of feature films and long-form drama, is now the way directors build an international career. Features are still important calling cards, but they don't have to be Oscarwinners to open doors. For Adil El Arbi and Bilall Fallah it was the raw urban thriller Black which paved the way to Hollywood.
Similarly, Hans Herbots' dark crime film The Treatment opened doors in Britain. "It was released theatrically in the UK and got very good reviews," he recalls. "I think that caught the attention of film director Neil Jordan, who was developing Riviera."
This series follows a woman's investigation of her rich husband's death on board a luxury yacht in the south of France. Herbots directed two episodes of the 10-part series, and was then approached to work on Rellik, a London-based serial killer tale made for the BBC and HBO Cinemaxx.
Meanwhile he worked closer to home on The Swell, a Dutch-Flemish eco-thriller that explores the consequences if the dikes and dams that hold the sea back from the Netherlands and Belgium were to collapse. Even though this coproduction involved neighbouring countries, it felt more international than the British series.
"As a director, you have more power in an international co-production than on a strictly UK project," Herbots says. "But it is nice to go back and forth between these different kinds of projects."
As a director, you have more power in an international co-production
Hans Herbots
Series Connections
Local TV series have also proved effective at opening up international careers. For Jakob Verbruggen it was directing cop show Code 37 and its movie spin-off that lead to BBC series The Fall. Since then his credits have included the US remake of The Bridge, BBC drama series London Spy, and the season four finale of House of Cards for Netflix. More recent assignments include the satirical sci-fi series Black Mirror and historical crime drama The Alienist. 
Jan Matthys went international after directing the First World War drama In Flanders Fields, going first to Scotland for BBC crime series Shetland, then to South Africa for its medical drama Our Girl. Meanwhile Pieter van Hees went to France after working on Flemish series Generation B. and Highway of Love, to direct the third season finale of Versailles for Canal+. More recently, he has worked on the Flemish historical drama Jan De Lichte.
Like Verbruggen, Tim Mielants cut his teeth on Code 37, before working on the first season of Cordon, multistrand drama following the outbreak  of a deadly disease in downtown Antwerp. When the series was picked up abroad, he got offers to work on The Tunnel (an Anglo-French re-imagining of The Bridge) and to direct the third season of period crime drama Peaky Blinders for the BBC. He has also stepped over the Atlantic, directing an episode of US superhero series Legion, part of the Marvel universe.
Calling cards
the series opened doors. The second season of the series was a calling card in discussions to direct the season finale of Hassel, a re-boot of a classic Swedish cop show. Staring Ola Rapace, the series is produced by industry veteran Malte Forssell.
Malte and Ola (who is also executive producer) saw my work on Cordon and they liked the roughness, the ugliness, and the organic, intense human feel of the show," Reybrouck recalls. "They wanted to stay away from the more traditionally styled, cold policiers like The Killing." 
Reybrouck was brought in by Jan De Clercq of Lumière, which co-produced the series, to handle the finale's plot transition from Stockholm to Brussels. "I wanted my episodes to suck you into a mood, rather than just a detective plot," he says. "Also, I invested a lot of time in finding the right locations. With the help of my DoP, Christophe Nuyens, I think we gave a beautiful impression of Brussels."
Reybrouck's next assignment is Undercover, a Belgian-Dutch coproduction about the plot to catch a major ecstasy producer. "It's a Netflix Original Series which is going to be broadcast worldwide. So yes, the pressure is on!"
It's a Netflix Original Series, so the pressure is on!
Eshref Reybrouck
Adil & Billal: Two to watch
Every year entertainment industry bible Variety names 10 directors to watch in the year ahead. Michaël R. Roskam made the list for 2012, following the sensational reception of Bullhead. Now directing duo Adil El Arbi and Bilall Fallah have been listed for 2018, looking forward to their third feature Gangsta.
While this recognition will raise their profiles in Hollywood, El Arbi and Fallah have already made their mark. Their names are linked to a planned fourth film in the Beverly Hills Cop series, with Eddie Murphy, and they have directed for TV, with episodes of the series Snowfall and a pilot for Scalped. Their breakthrough was the feature Black, a Romeo-and-Juliet tale set among warring gangs from different ethnic communities in Brussels. "The thing with Black is that it is really edgy and really raw, but at the same time universal and open, and slick in the way the camera moves," says Fallah." That's the style that we are always asked for." 
Adil El Arbi and Bilall Fallah © Jo Voets
In Hollywood you get everything you want, so we can make things bigger
Bilall Fallah