The animation industry in Flanders is growing and maturing, its producers taking the lead in international projects and its artists creating winning characters and stories. In fact, if animation was a cycle race, the Flemish would be out in front.
Cycling and animation might seem an odd comparison, but it chimes in Flanders, where the sport is a national obsession. The top riders -- called flandriens -- are venerated for their grit and determination, characteristics which can also be seen in the way Flemish animators have developed their industry over the past couple of decades.
©
"We have been working on it from 1999, building up talent," says Eric Goossens, co-founder of boutique studio Walking the Dog. The industry's development has also been underpinned by the economic support for co-productions, through Screen Flanders and the Tax Shelter.
But more than that, it's the reputation of Flemish producers and animators that attracts international partners. 
"They may like our money, but if you don't do a good job, they never come back," Goossens says.
They may like our money, but if you don't do a good job, they never come back
Eric Goossens
Satisfied customers
Goossens is currently developing two projects with satisfied customers who have come back for more. The first is Ari Folman, who called on the studio for last-minute help completing his 2013 feature The Congress. He was so impressed that he invited Walking the Dog to collaborate in making his next film, Where Is Anne Frank?, which explores the legacy of the young Dutch Holocaust victim.
Where is Anne Frank? © Purple Whale Films - Walking The Dog - Submarine - Samsa - Bridgit Folman Film Gang
The offer was very attractive: a director with a strong artistic vision, plus the backing of the foundation that safeguards Anne Frank's memory. "He asked us to become the main animation studio, and to co-produce, so we had to embrace that," says Goossens.
The other project is Fox and Hare, based on stories by Sylvia Vanden Heede and veteran illustrator Thé Tjong-Khing, whose Picnic With Cake was a past Walking the Dog project.
The series is set in a forest, where good-humoured Fox and sensitive Hare solve problems in an original and creative way.
Mascha Halberstad and Tom Van Gestel direct, with Submarine in the Netherlands and Doghouse in Luxembourg co-producing. The bulk of the animation, which combines the look and feel of stopmotion with CGI, will take place at Walking the Dog's studios in Genk and Brussels.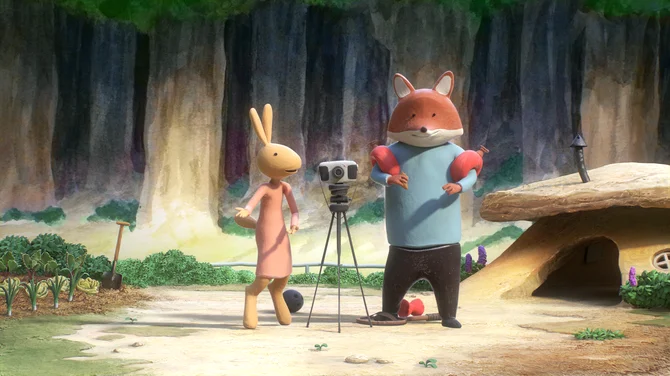 Vos en Haas © Submarine - Doghouse - Walking The Dog
Taking the Lead
Grid Animation attributes its rise, along with the rest of the industry, to simple sociability. "We are two nice guys," says Mark Mertens of himself and co-founder Jan Goossen, only half joking. "Flemish people are easy to work with, and we connect just as easily with the French, Germans and the English."
But Grid has also seen a rapid evolution, from being a useful partner to a project leader. "Today it's our catalogue and the way we feel European co-productions need to be established that makes us who we are."
It also makes Grid very busy. For the big screen it recently completed work on Deep and Harvie and the Magic Museum, and it is currently busy with Marnie's World, Captain Morten and the Spider Queen and Hedgehog Latte.
For TV, it recently finished Ziggy and the Zootram, the first series developed in-house, and Yo Yo, a co-production with Rai. It is also ramping up the second season of Little Luke and Lucy, an adaptation of iconic Flemish comic strip Suske en Wiske. Then it moves on to Mouse Mansion, Fabeltjeskrant, and Interstellar Ella (with the BBC) amongst other projects.
Ziggy and the Zootram © Skyline Entertainment - Grid Animation - Fabrique D'Images - Wunderwerk
Riding the Dragon
For 3D specialist Cyborn the rise of Flemish animation is down to a mix of professional, technical and creative talent. "The Flemish are hardworking, focused, correct and have an eye for detail," says associate producer Iris Delafortry. 
Cyborn recently co-produced its first feature, Ploey – You Never Fly Alone, with GunHil in Iceland, completing the bulk of the 3D production work in its Antwerp studio. Now it is busy with its second, Dragon Rider, based on a best-selling fantasy novel by Cornelia Funke. This tells the story of Ben, a boy who goes on a quest to find a place where the the dragons can live in peace.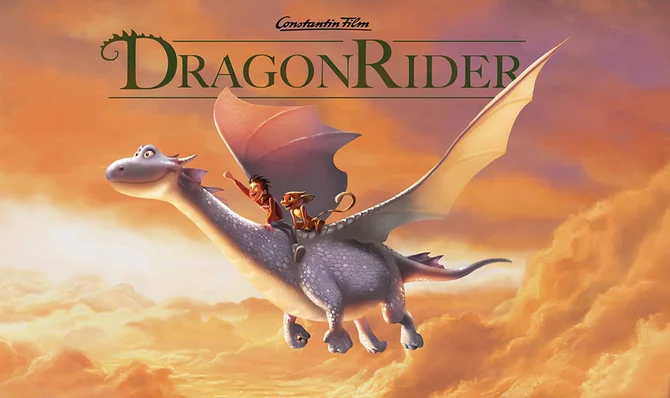 Dragon Rider © Constantin Film - Rise FX - Cyborn
On top of the fascinating story, it was a chance to partner with experienced German co-producer Constantin Film. "We play an important role within the production: all character modelling, rigging and animation, which are the parts that we prefer and that have a large impact on the final quality of the film," says Delafortry. 
Cyborn is also developing its own feature, Hubris, a tale of space travelling assassins told in a hyper-realistic 3D animation style. "This universe will be coming to life in both a theatrical film and as a full 360˚ virtual reality version."
The Flemish are hardworking, focused, correct and have an eye for detail
Iris Delafortry
Knights of Creativity
Creativity is the key for Perrine Gauthier, producer at Thuristar. "Flanders is a strong creative hub: talented artists and animators, but also a high of standard facilities and studios, both in image and sound -- and Flemish producers who strive for originality and quality."
Thuristar is the Flemish production company and studio founded by animator and director Joeri Christiaen. His series My Knight and Me has been sold globally by CAKE Entertainment and was recently nominated twice in the European Animation Awards, for its writing and soundtrack.
My Knight and Me © Thuristar - TeamTO
Thuristar is also developing Mush- Mush and the Mushables, its first series not originated by Christiaen.
Mushables are Guardians of the Forest, each with a special talent. Even so, they still have a lot to learn about the unique world that surrounds them, and about themselves.
"It was really love at first sight," says Gauthier. "We were charmed by the character designs created by Elfriede de Rooster, who at the time didn't really know what this little community would or could become."
Any Time, Any Place
For Mieke Vanhoucke, producer at Creative Conspiracy, the strength of Flemish animation comes from its need to collaborate. "We have a lot of stories to tell, but because we're a small territory we have to collaborate with international co-producers. So, we are obligated to think internationally from the start."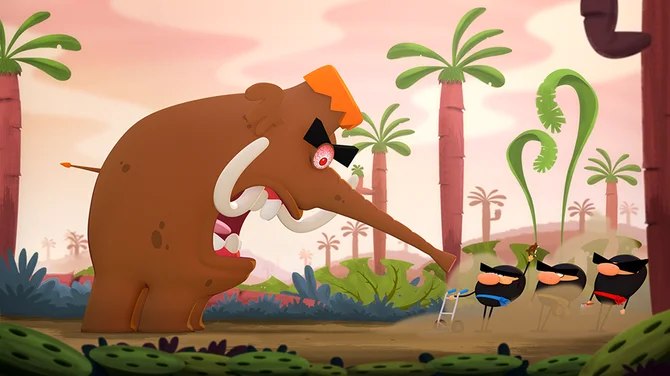 Three Little Ninjas Delivery Service © Creative Conspiracy
Its own international success has come with Three Little Ninjas Delivery Service, where space and time are no barrier to getting clients what they need. "Everyone knows Ninjas, but you've never seen them so tiny and under such absurd circumstances," says Vanhoucke. "The series is targeted at children, but the visual and verbal humour has a strong slapstick vibe which makes that anyone can enjoy watching it." 
The series pilot has been selected for 38 festivals and caught the attention of some well-established broadcasters. Creative Conspiracy has partnered with eOne for distribution and the series will have a full international roll-out.
Two more series are in development: BaDaBoo and Mr. Biscuit. "We explore different styles and techniques to give every project that extra special touch to make it unique, timeless and appealing for different audiences."
We explore different styles and techniques to give every project that extra special touch
Mieke Vanhoucke
Also In The Pipeline
And there is more to come. Sir Mouse from Fabrique Fantastique is about the unusual friendship between Mouse and her best friend Dragon. Ollie from Lunanime is about a baby owl and his friends who gather in a quiet city park. And Mister Paper from A Private View and Beast Animation deploys a classic cut-out animation style to tell the story of a man who uses scissors and his imagination to shape the world.
Ridder Muis © Fabrique Fantastique - Scopas Medien AG - Salty Dog Pictures