They weren't sure to start with, says Roy Boulter, producer of Terence Davies' new Emily Dickinson biopic. But they soon found shooting A Quiet Passion in Flanders to be "a totally positive experience".
It was the timber delivery that did it, says Roy Boulter, producer (with his partner Sol Papadopoulos) of the new Terence Davies film A Quiet Passion, about the life and work of 19th-century American poet Emily Dickinson. The film recently completed six weeks shooting at AED Studios and on locations in Flanders. From the start, it proved the right choice: four days after Hurricane Films said 'Yes' to AED, the timber to construct the set was already in the workshops. And two of those days were a weekend.
Boulter admits that he, Papadopoulos and Davies initially hesitated between working at AED or shooting the whole film in Massachusetts, near to the house (now a museum) in Amherst, where Dickinson lived and died. After all, shooting in the US would give them access to a brand new, state-of-the-art complex, New England Studios, built by a group of wealthy supermarket families. But it was the crews that won them over, along with the financial incentives that Flanders - through Screen Flanders and the Belgian Federal Tax Shelter - is able to offer. In the end, just over a third (€2.5 million) of the €6.9 million budget was financed in Belgium, with €300,000 of it raised by Belgian co-producer Potemkino from Screen Flanders. "Sol and I spent a couple of weeks agonising over where to go. Terence ultimately said 'It's up to you'," says Boulter. "Belgium was closer and we knew that it would be a crew that had worked together before and had worked in those studios, whereas the New England Studios would have been a crew that had never worked there."
They assembled a fantastic team. I don't think we would have got that speed and expertise as quickly anywhere else
Roy Boulter
Up and running
They eventually made the decision on a Thursday, and were really impressed by how quickly the Flemish production team swung into action: by the time Boulter and Papadopoulos flew in on Monday, the production office was up and running; the timber was in; and building about to start. "We were just as impressed with the heads of department," adds Boulter. "The line producer [Paul De Ruijter] and the 1st AD [Johan Ivens] had worked together before and they assembled a fantastic team. I don't think we would have got that speed and expertise as quickly anywhere else." A Quiet Passion shot mainly interiors in Flanders, but the production extended its stay in the region (six of the film's seven-week production schedule ended up being shot there) to do some exterior work as well. "Initially," says Boulter, "we were only shooting interiors, but because of the scale of the production, when the 1st AD came on board and was doing the schedule, he said 'Really, just try to do something in Belgium for financial reasons and for scheduling reasons'. So we managed to shoot four days of exteriors." Some blue-screen work was done in Kapellen, north of Antwerp, and the opening scene in a schoolhouse and a scene in an old opera house just outside Brussels were also added.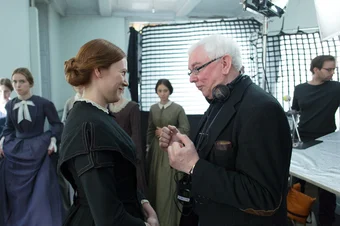 A Quiet Passion © A Quiet Passion
An exact replica
The main set, though, was the Dickinson house, which exactly reproduced the one in Amherst on the AED soundstage. "Merijn [Sep, the production designer] and I had been over to the Dickinson Museum," recalls Boulter. "We'd been sort of courting them for three or four years, convincing them that the film was something they could support. They provided us with the floor plans and material samples, and Merijn recreated the whole house on the soundstage in Belgium. It was remarkable. What was really impressive is that he didn't just accurately capture the physical dimensions of the house: he somehow captured the spirit of it."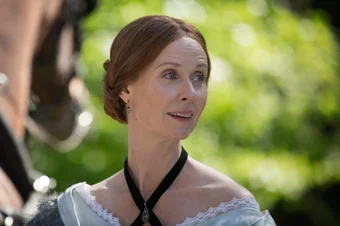 A Quiet Passion © A Quiet Passion
A Quiet Passion marks the third time Boulter and Papadopoulos have worked with Davies, starting with the essay film Of Time and the City (2008) about their home town of Liverpool. Next came Sunset Song, an adaptation of a Scottish novel that Davies had struggled for 15 years to bring to the screen. Premiering in Toronto in September 2015, the film had been a UK/New Zealand/Luxembourg co-production, and making it had been every bit as difficult as one might expect. "Everything about that shoot was miserable," says Boulter, "whereas everything about the shoot in Belgium was a pleasure. In the second week, Terence declared that he was the happiest he'd been in 40 years professionally. Well, the words 'happy' and 'Terence' are rarely used in the same sentence, certainly not when he's in production!" Boulter had been slightly apprehensive about bringing an American cast - headed by Cynthia Nixon, Jennifer Ehle and Keith Carradine - to Belgium for six weeks, but concedes he needn't have worried. "They could have taken a weekend to fly home but none of them did. Jennifer and Cynthia just fell in love with the place." Indeed, the local press captured shots of Nixon – a Primetime Emmy-winner for Sex and the City - out shopping in Antwerp.
The subsidies are more available, the support is better and as soon as we made the decision [to shoot in Flanders], we realised we had made the right one
Roy Boulter
Flanders vs. Massachusetts
Boulter, meanwhile, fell in love with a system that did everything it could to help them make the film, rather than throwing obstacles in their path, as the US Department of Immigration had done when they explored the possibility of shooting in Massachusetts. "All the work that went into applying for visas for the non-American cast and crew to fly over to America was just a nightmare," he says, "whereas the only problem we had with the Belgian visa was explaining to the agents that you didn't need one. We had to get written confirmation from the Embassy that no one would get turned away when they arrived. You work under three months in Belgium and you don't need a work visa. It makes it so much easier, compared to the red tape that surrounds shooting in the US. "The subsidies are more available, the support is better and as soon as we made the decision [to shoot in Flanders], we realised we had made the right one," concludes Boulter. "Everything we needed was there. It was, I would say, a totally positive experience on every level and we fully intend to shoot in Belgium again. There are a couple of projects we're looking at that we could shoot there and we may even do post-production on a future film. A Quiet Passion has been a real joy."