In less than a decade, Beast Animation has emerged as one of northern Europe's leading stop-motion studios.
Scary by name but quite cuddly by nature, Beast Animation owes its company title to nothing more fearsome than the first names of its founders, Ben Tesseur and Steven De Beul - BEn and STeven with the A of animation in the middle. The pair met at film school and were determined to build a career in the then sparsely populated world of Belgian animation. "We had a student dream, a joke really, that one day we would start an animation studio," recalls Tesseur. Twelve years later, that dream is solidly real in the shape of a 400-square-metre building in Mechelen. "We have sufficient space to do what we do now," says De Beul. "But if a big project comes up, it's too small; and if there's nothing to do, it's too big!"
Right now, keeping the space filled is proving no problem, with a dozen or so people working on a procession of projects, most of them tapping into the financing opportunities provided by Screen Flanders and the Belgian Tax Shelter. Two commercials for Danish company LEGO, a pilot for a series called Meneer Papier (Mister Paper), the second season of the successful children series Dimitri and This Magnificent Cake!, the new film from the directors of award-winning short Oh Willy… are in production. In pre-production is Coppelia, a feature-length film combining animation and ballet which they are developing with the Dutch National Ballet. In development, meanwhile, are a feature about the legendary horse Bayard and a new series.
Making of the first season of Dimitri © Vivement Lundi! - Beast Animation - Nadasdy Film
No House Style
Already in the can are such Screen Flanders-supported projects as the first season of Dimitri, the story of a little bird from northern Europe who ends up in Africa; a TV series called Rusty (Rintje) about a mischievous puppy; and another children's series George & Paul. The latter is currently in post-production and stars two energetic friends made out of those brightly coloured geometrical wooden blocks that will be recognised by anyone who was ever a child. Each film has a strikingly different look: there is, it seems, no 'Beast' house style. But if you look closer there is a red line in their work: sophisticated animation and elaborate character development through movement and rhythm.
Most of their work is done in, or has a link with, stop-motion animation, a technique where figures are moved around by hand in three-dimensional model backgrounds. Their movements are recorded 12 or 24 times a second; between eight and 20 seconds of animation a day per animator is delivered, depending on the complexity of the scene to shoot. The result can be anything from realistic to surreal, creepy to comical.
Until Aardman - home of Chicken Run and Wallace & Gromit - came along, stop-motion was associated with the high-art end of the movie spectrum, made by pioneers like the great Czech animator Jan Svankmajer or set in the distinctly experimental world of the Quay brothers.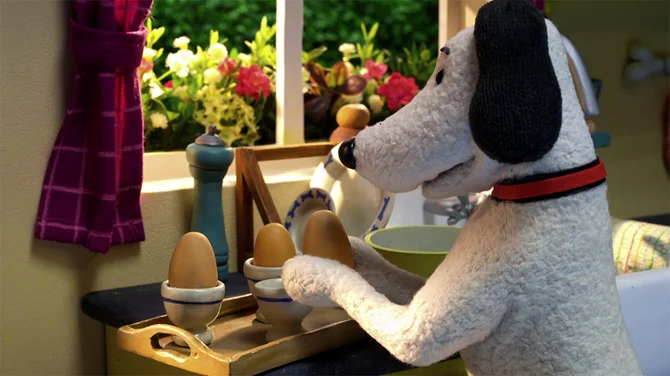 Rintje © Lemming Film - A Private View - Beast Animation
A Wider Audience
"We don't really want to make films as artistic as Svankmajer's were," says De Beul. "Our ambition is to make series and films in stop-motion for a wider audience." "When we graduated," recalls Tesseur, "it was very difficult to find work. Steven worked for a few years in Germany and Holland on animation productions but I couldn't find any job at all in animation. Then we both worked on the first series of Panique au village (A Town Called Panic), and that's where we picked up our student dream again."
Beast Animation co-produced A Town Called Panic, the first Belgian stop-frame animation feature in 60 years, which had its premiere at the Cannes Film Festival in 2009.
The film chronicles the ramshackle adventures of Cowboy, Indian and Horse - toy figures moving jerkily around in a toy-town landscape as though propelled by some unseen child's hand. Nothing could be further from the life-like figures of modern 3D CGI animation. "It looks very simple," says De Beul, who was director of animation on Panic, "but it isn't, the apparent simplicity lifts the animation to another level."
Our ambition is to make series and films in stop-motion for a wider audience.
Steven De Beul
Not Just Kids Stuff
Like most filmmakers, Tesseur and De Beul see themselves as storytellers. "We play around with plastic figurines and try to express exactly the same thing as a 3D animation film, but in a different way," says De Beul. But, admits Tesseur, "when we're animating, we're still little children, playing around with paper, toys or little cars."
Not that it is all kids stuff: the 2015 film Under the Apple Tree - a co-production with the Netherlands which the duo coproduced but did not direct - is a 'bad-time story' about death and decay, while Oh Willy…, a co-production with France and the Netherlands, tells the story of a man visiting his dying mother in a nudist camp.
As the above suggests, co-productions are the norm, and Beast Animation has regular partners in France (Vivement Lundi!, with whom they did the short Oh Willy… and are prepping This Magnificent Cake!); Panique Productions in the Frenchspeaking region of Belgium; and Pedri Animation in the Netherlands, with whom they partnered on Rusty, George & Paul and - again - This Magnificent Cake!.
"We like making films and series for children," says Tesseur, "but we also want to make stuff for adult audiences. Every production is the next step to doing bigger or different productions. Although most of the stuff we do is stop-motion based, the films we do are all very different. You will never see two productions that are exactly the same."