How a link-up between a top postproduction facility and a symphony orchestra has helped establish Flanders as a key player in the world of film music.
Emerging out of a long-standing but initially ad hoc arrangement between the Brussels Philharmonic, sound post-production house Galaxy Studios and Film Fest Gent, the only international film festival to focus mainly on music, Scoring Flanders has, in just a few short years, made Flanders a major player in the world of film music. Scores they have worked on range from major movies like Martin Scorsese's The Aviator, Oscar-winner The Artist and Toronto 2015 premiere High Rise to prestige TV series such as Parade's End and The White Queen.
"We have returning clients who specifically want to work with us, so that's good news for us and for our business as a very young film nation," says Ralph Broos, Galaxy's COO. "In the last five years we've produced something like 120 scores with numerous international and European clients, so it grows, you know?" "Ralph and I have known each other for quite a few years," adds Gunther Broucke, the Philharmonic's general manager, "and we have done a few soundtracks in the past, a couple of which have had tremendous success. We did The Aviator, which won a Golden Globe; and we did the soundtrack for The Artist, so we learned that there was a market out there and competence within our organisation." What started almost as a hobby, in other words, has become a serious business.
Audio Technology
Both companies are fully developed as separate entities. Galaxy is a 5.000-square-metre post-production facility which can do audio post, music and film post. The studio is at the forefront of audio technology, embracing the patented Auro-3D® immersive sound format, also adopted by most major Hollywood studios, with the earliest being Lucasfilm's Skywalker Sound and DreamWorks Studio. A major leap was taken in 2011, with the Barco partnership, rolling out the Auro 11.1 by Barco, a digital cinema application embraced by Bollywood and increasingly popular in Hollywood. To date over 120 international movie titles have been released and 550 theatres are installed or committed worldwide. Red Tails (2011) was the first major movie to use the format; most recently, Maze Runner: The Scorch Trials, Sicario and The Hunger Games: Mockingjay - Part 2 have used this immersive breakthrough in audio as well.
The Brussels Philharmonic, meanwhile, like any major symphony orchestra, has a day job: bringing music to audiences around the world. "We do something like 80 concerts a year," says Broucke, "and we tour all over Europe; we're going to Japan and the US; we have a residency in London; so we are a fully-fledged symphony orchestra playing everything from Bach to the music of our time.
 "But we have always had a specific interest - I don't know why - in film music. That was what brought us to Film Fest Gent and the film music concerts. We have had the opportunity to work with people like Howard Shore, Alberto Iglesias and Alexandre Desplat."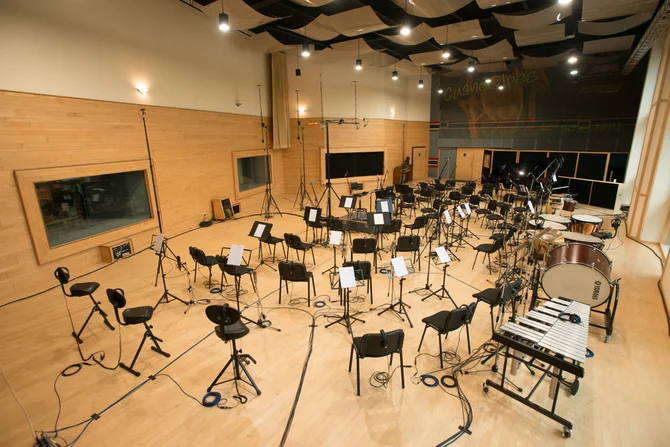 Galaxy Studios © Galaxy Studios
The concept of having everything and everyone under one roof is brilliant
Oliver Hirschbiegel
Unstoppable
But if the two are individually powerful, united under the Scoring Flanders banner they are pretty much unstoppable. "By teaming up with Galaxy Studios, we had the opportunity to develop the whole recording soundtrack here in Flanders to a very high level," says Broucke, who helped organise a major promotional initiative for Galaxy and the orchestra in Hollywood last summer. A key element in the whole scoring operation is Galaxy's own high quality streaming technology which allows producers and composers interactively to monitor recordings from a distance and has become one of the cornerstones of the Galaxy/ Brussels Philharmonic link-up. In Galaxy's post services, the eyecatcher is the new 'AuroTorium', a state-of-the art dubbing and preview theatre built to meet the increased demand for Auro-3D in particular, described by LA-based German director Oliver Hirschbiegel (Downfall, The Invasion) as "the best mixing and post experience for me - ever". "The concept of having everything and everyone under one roof is brilliant," says Hirschbiegel. And there are financial advantages as well. "We start from being a facilitator," says Broos, "but we have in our group all sorts of possibilities for film financing to film production, to help a producer of films in Belgium or Flanders."
Somewhere along the way, of course, the Philharmonic has had to adapt to the film industry's way of working. "We had basically to change our scheduling dramatically," Broucke admits. "With the orchestra, I'm planning for 2018/19. But in the film industry, if you get a call to make a soundtrack, it might be that you're talking about a very short period." How short? "48 hours in one instance," he chuckles, naming no names.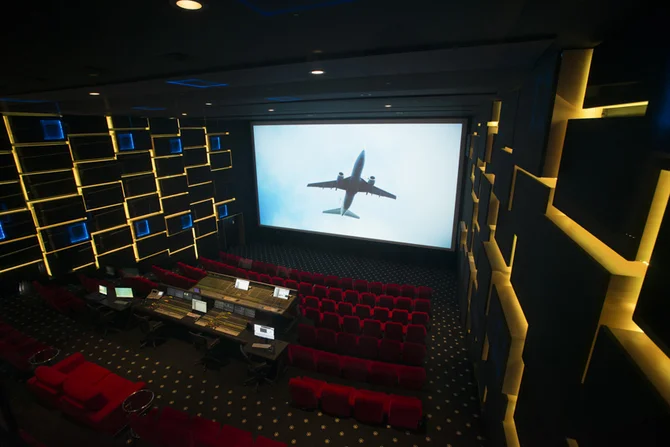 Aurotorium Auro 3D dubbing stage at Galaxy Studios © Galaxy Studios