Italy and Belgium: a match made in heaven. Are you curious on how Flanders provided creative talent to the award-winning film The Eight Mountains, which won the Jury Prize at the 2022 Cannes Film Festival?
Watch the full testimonial and learn what Flanders has to offer.
The Screen Flanders supported film The Eight Mountains is a great example of the co-production opportunities with Flanders, Belgium. The Italian production company Wildside (My Brilliant Friend, The Young Pope) gathered forces with Menuetto and Rufus (BE) and Pyramide Productions (FR) for this European co-production.
Next to the financing mechanisms of the Belgian Tax Shelter, support from the Flanders Audiovisual Fund (VAF) and from the economic fund Screen Flanders, Flanders provided creative talent to this beautiful project. Belgian directors Felix van Groeningen and Charlotte Vandermeersch adapted Paolo Cognetti's bestselling novel to a screenplay and directed the film. Other Belgian talent involved are director of photography Ruben Impens and editor Nico Leunen.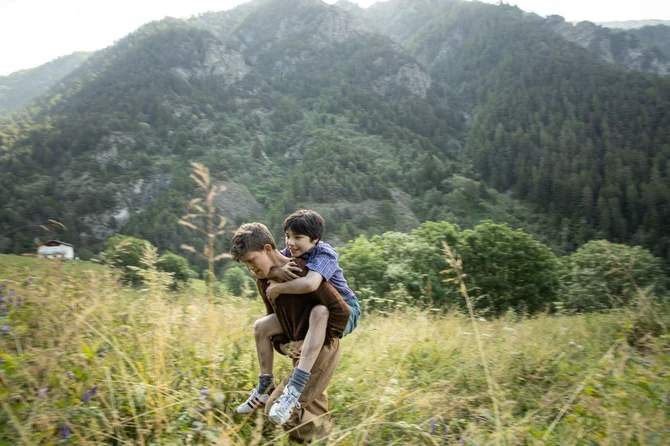 De acht bergen © Alberto Novelli
"We had always wanted to write together." - thus Felix and Charlotte, partners in real life. The book The Eight Mountains came along and they adapted it to a film screenplay together.
"The Italian production company Wildside bought the rights to the Italian book Le Otto Montagne, and they were looking for a director for the film. They had their eye on Felix for already a long time (since The Broken Circle Breakdown). So then they called Felix, but he was already reading the book on his own – a match made in heaven" – explains Hans Everaert, the Belgian co-producer from Menuetto (La Civil).
It was important for us that we were part of the producing team. It is an Italian movie, but the creative core is really Flemish. Charlotte and me, who wrote the script and directed it, Ruben and Nico. Flemish funding enabled us to sit at the producer's table, to be able to have a say about the movie and to own the movie.
Felix van Groeningen
Flemish creative core
Belgian funding allowed this Flemish dream team to work on Le Otto Montagne. Felix van Groeningen is a Belgian director and writer, known for The Broken Circle Breakdown (2012), Beautiful Boy (2018) and The Misfortunates (2009). Charlotte Vandermeersch is an actress and writer, starring in Loft (2008) and The Broken Circle Breakdown (2012). Cinematographer Ruben Impens is known for the Palme D'Or Titane (2021), The Broken Circle Breakdown (2012) and Grave (2016). Editor Nico Leunen is well-known for Ad Astra (2019), Beautiful Boy (2018) and The Broken Circle Breakdown (2012).
Lorenzo Gangarossa from Wildside confirms the added value of working with Flemish talent. "Nico Leunen is one of the best editors I've met in my entire life. And of course, Ruben Impens... You have seen the framing of this film! Last year he was here in Cannes with Titane. If I could, I would take those two to Italy and work with them all the time!"
Ruben Impens adds: "It's true, we don't need a lot of words to understand each other. It was the first time Charlotte and Felix were directing together, but it fell in place quite quickly. After one take you could see them discussing behind the monitor or one of the two would go to the actor and direct or give comments. It all went fluently."
A natural co-production
Hans Everaert explains that it was quite a natural co-production between Italy and Belgium.
"On the one hand, you had the Italian book and the Italian production already starting to getting in place. On the other hand, you had all the Belgian artistic elements. We built on that and we found each other very quickly in a way. For me as a Flemish producer, it was important to have enough financing from the Belgian side. For the Flanders Audiovisual Fund (VAF) as such, it's a minority production, so they give less money than to a majority production. But then it's important that you have Screen Flanders, which adds some money from the economic side. So then you become an important (or important enough) producer in the relation to be a good partner. That's how it works."
Charlotte Vandermeersch points out the flexibility of our local, multilingual talent. "A capacity of us, Belgians, is how easily we can adapt. We don't identify with one thing, we're not Belgian or we don't really know what that is exactly. It's something that is flexible. So we're used to working efficiently, doing everything ourselves."