Flanders may be a little far south to count as 'Nordic', but Ghent-based Lunanime is developing a strong taste for TV 'noir' made in Flanders.
From provincial cinema owner to diversified media operation, the Lumière Group has gradually expanded - it began by owning a cinema in Bruges - to encompass production and distribution arms, film financing and a thriving animation studio. Based in Ghent, the company has seized on the various forms of finance available in the region, plus the added value offered by the Belgian Tax Shelter - it has a finance unit, Lum.Invest, which raises tax shelter funds for its own and other companies' productions - and has been at the heart of making Flanders a production hub out of all proportion to its size.
"There are a lot of countries that also have a tax shelter system," says company co-owner Jan De Clercq, "but there are only a few countries where you have tax shelter, a fund like Screen Flanders which is important for us and then, in a lot of projects, we add a minimum guarantee because we also distribute. That makes it very attractive for people to co-produce with us."
Secret Weapon
Being a distributor is Lumière's secret weapon. In that sense, notes ceo Annemie Degryse, who heads up production arm Lunanime, the different parts of the company - distribution and production – run along parallel lines. "Let's say that we wouldn't co-produce if we didn't want to distribute it. If you don't fall in love with it, you don't want to tell people that it's a great thing and there's no reason to co-produce it."
"We made our first movie in 2001: Meisje, which was the debut of Matthias Schoenaerts," says De Clercq. "Then, in 2003, we started distributing films and TV series. The second thing we bought was La meglio gioventu (The Best of Youth) by Marco Tullio Giordana which was a huge success in the Benelux, so from then until now, we developed our distribution business very strongly, always with movies and TV series."
Nordic Noir Made in Flanders
This philosophy has seen Lunanime participate in a number of international co-productions and animation features (see below). More recently, though, the company has moved into the world of 'Nordic noir', the phenomenon which has galvanized TV drama with series like The Killing and The Bridge. They are currently collaborating with the Swedish production company Yellow Bird, on the second series of the Norwegian political thriller Occupied, about what happens when Norway tries to go it alone in banning fossil fuels.
Also in the pipeline is Hassel, a series based on books by a Swedish crime writer published in the 1970s, which will be a co-production between Flanders, Germany and Sweden. But Lunanime's new Nordic adventures really began with a high-end TV series called The Team about three maverick cops, one from Antwerp, one from Copenhagen and one from Berlin, who have to work together on a series of similar crimes. It was a big success, with an audience of 10-million-plus, but The Team was already some way down the track when Lunanime came aboard, recalls De Clercq.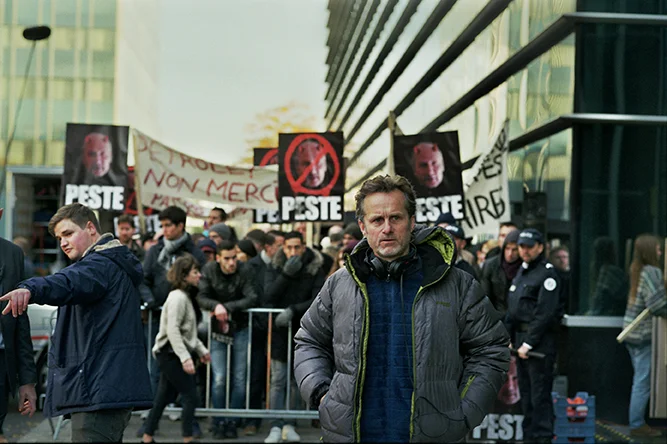 Director Jens Lien on the set of Occupied II © Kris Dewitte
We were very happy that we got the support from Flanders. The crew really fitted in well with the Norwegian crew, so yes, I would do it again. We really like Belgium!
Gudny Hummelvoll
Move to Belgium
"The idea came from Peter Nadermann who is well known as the connection between Germany and Scandinavia: he was the guy who discovered The Killing. He had had a 'No' from the UK and, I think, from France to be co-producers, so they were something like two or three million [Euros] short. I told them, 'If you move from France to Belgium, then we will have the money you need'."
Lunanime's participation in the second series of Occupied came about in a very similar way. Lumière had been involved in the first series as a distributor, selling it on to Flemish television and other local outlets, says De Clercq. "Then, last year, we were at the Nordic Film Market in Gothenburg and we had a meeting with Marianne Gray and Gudny Hummelvoll from Norway. On the second season of Occupied, they were looking for extra financing and they had some of the action taking place in France. So we went, 'OK, we can do a co-production with you'. The combination with Tax Shelter money worked very well, and Screen Flanders felt it was also financially interesting for them." In the end, Occupied II shot for 20 days in Belgium. "We shot in Antwerp and Brussels," says Hummelvoll. "We shot a lot of scenes that are supposed to be France and Poland. We were very happy that we got the support from Flanders. The crew really fitted in well with the Norwegian crew, so yes, I would do it again. We really like Belgium!"
Thus was born the hybrid known as 'Flemish noir'. "The big difference with the upcoming Hassel will be that the last two episodes have a Flemish director, Eshref Reybrouck," concludes De Clercq, "and the DOP will be Christophe Nuyens who did The Tunnel 2 and is now doing a big BBC series called Riviera (with a Flemish director, Hans Herbots). It's really Nordic noir with a Flemish touch."