The involvement of Caviar with The Racer began over drinks at the Cannes Film Festival. Blinder Films from Ireland and Calach Films of Luxembourg had hooked up to make a film centered on the Tour de France cycle race, and so logically enough they were looking for a French co-producer.

Caviar as a co-producer
"I explained to them that for any movie about cycling you shouldn't go to France, but to Belgium, and specifically to Flanders, because no-one in the world is crazier about cycling than the Flemish," recalls Robin Kerremans, head of international co-productions at Caviar.
While founded in Belgium, Caviar has an international presence, with offices in Los Angeles, London, Amsterdam, Madrid and Paris, as well as in Brussels. It makes films and drama series, with recent projects including the international remakes of Professor T. and Before We Die, Sound of Metal, The Rider and Tabula Rasa. It also produces scripted formats for TV, commercials and music videos.
As well as its own slate of productions, Caviar seeks out interesting projects as a minority co-producer, and the conversation in Cannes about The Racer was promising. So the next day, director Kieron J Walsh (Jump, When Brendan Met Trudy) sent over the script. "We recognised the quality of the project immediately, its originality and its challenges," Kerremans says.
© Blinder Films / Calach Films / Caviar 2020
Tour de France
The Racer is set in the summer of 1998, when the opening stages of the Tour de France took place in Ireland. This was also the Tour when the scale of doping involved in professional cycle racing became apparent following the Festina affair, in which a team masseur was caught bringing banned substances to the race.
The film's central character is fictional: Dom Chabol, one of the best support riders in the game. His job is to set the pace and get his team's star sprinter into the best position to cross the line first. But support riders never win, and just this once, before he is too old, Dom would like to wear the yellow jersey. Initially dropped by his team, the unfolding drugs scandal appears to give him a last chance.
Kerremans felt the project shared a lot of Caviar's creative DNA, which he describes as 'genre with an edge'. "We want to be original, we want to do things differently, but our projects must also be commercial enough to find their audience."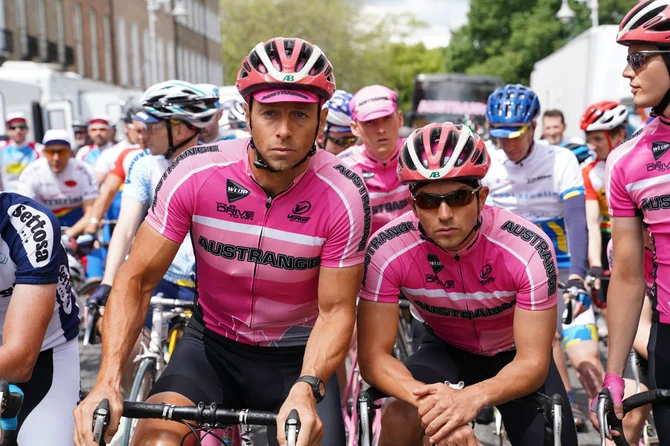 © Blinder Films / Calach Films / Caviar 2020
Talent and financing from Flanders
Even though Caviar became the smallest of the three co-producers, it was still able to bring a lot to the table. First of all it made a creative contribution, helping revise the script to introduce some Flemish elements, for example making Dom a Flemish rider, and tightening up the narrative. "We have a lot of in-house creatives at Caviar who are experts in storytelling.
"Then there was the casting, where three of the leading roles went to Flemish actors. Louis Talpe (Don't Shoot, What Men Want) was selected to play Dom Chabol, apparently catching the Irish producer's eye with an Instagram post riding a triathlon bike. "Louis performed the role of his life, and was able to drive the project," Kerremans says.
Matteo Simoni (Marina, Gangsta) was cast as the team's Italian sprinter Lupo 'Tartare' Marino, and relative newcomer Ward Kerremans as Lionel Dardonne, a rookie facing the doping temptation for the first time. "Matteo is a well-known actor, and Ward is a new name on the brink of breaking through. Both are world class."
They appear alongside international talent including Iain Glen (Game of Thrones) as a drug-pushing masseur, Karel Roden (Orphan, RocknRolla) and Tara Lee (The Fall). This combination of local and international stars, plus a story involving the nation's favourite sport, meant Caviar could also extend the financing.
It secured a minimum guarantee from Benelux distributor KFD, and also brought in a sports nutrition company for product placement. This was on top of the funding from Screen Flanders, and Tax Shelter investment through its daughter company Caviar Film Financing. Belgian involvement also made it possible to secure a subsidy from Eurimages.
Our funds and financing systems allow for people to travel, and in this production that was used to the maximum extent.
Robin Kerremans - Caviar
Post-production opportunities
All of this support was possible without a single shooting day taking place in Belgium. "We maximised the flexibility we have here in Flanders," Kerremans explains. "Our funds and financing systems allow for people to travel, and in this production that was used to the maximum extent."
So Flemish cast and crew travelled to Luxembourg to shoot the interiors, and then to Ireland for the race sequences. After that, the editing was done in Flanders, by Mathieu Depuydt and Nico Poedts, along with the sound design and grading. "We have graders here in Flanders who are true artists."
Visual effects were handled by Flow Postproduction of Antwerp, building up the atmosphere of the racing sequences. "All the crowds, thousands of people cheering in the streets of Dublin, were produced by VFX in Flanders."
Finally, composer Hannes De Maeyer wrote the score, building on his reputation developed through a long collaboration with high-profile directing duo Adil El Arbi and Bilall Fallah (Black, Gangsta).
"His music was very well received, both by the director, when he heard it for the first time, and by audiences," Kerremans recalls. "One of the comments we heard most often was that the music really added something to the film, and it's nice to be able to say that came from Flanders."