Directors Adil El Arbi and Bilall Fallah returned from Hollywood to Belgium to make their film - and passion project - Rebel. Curious on how they secured such a big budget for a Belgian film and still had total creative freedom?
Passion project
The Screen Flanders-supported film Rebel is already Adil and Bilall's fourth own film (after Image, Black and Gangsta). The duo has directed TV-series for Netflix (Soil), Disney+ (Ms. Marvel) and directed the Hollywood blockbuster Bad Boys For Life, starring Will Smith and Martin Lawrence. This time again, they chose to work with their regular cinematographer Robrecht Heyvaert.

They worked on Rebel for eight years. It's their most personal project up to date. Adil's little brother, Amir El Arbi, is even one of the main actors. The movie had its world première as a Special Midnight Screening at the Cannes Film Festival 2022. A dream come true.
Obviously, it's a super special project. Not only because of the size of this production and the co-production structure, but also to be able to collaborate with Adil and Bilall. We are able to bring them back from Hollywood to work here, where they have total creative freedom.
Producer Dimitri Verbeeck (Caviar)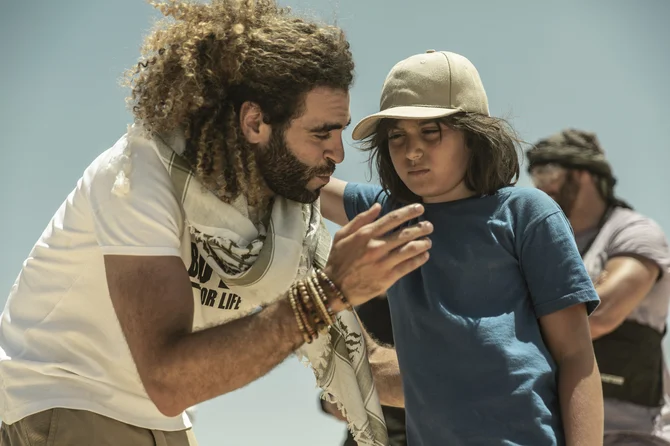 Adil and Amir El Arbi on the set of Rebel © Caviar - Kris Janssens
Funds working together
"It's quite different to fund movies in The States and in Europe." - Dimitri Verbeeck explains. "In the States, it's more about market money. Obviously, in Europe, it's a bit different. We go to film funds and then try to get film funds to work together. For example, on Rebel, we knew we needed quite a big budget, so we started with the Flanders Audiovisual Fund (VAF), and it grew into a big co-production between Belgium, Luxemburg and France. Those are the co-producing countries. And we gathered almost all the possible support. We combined the regional funds Screen Flanders and Screen Brussels, the Luxemburg Film Fund, funding from Jordan, and Eurimages. It's an ambitious movie, so we needed a budget of roughly 9M euros – which is a lot of money. But luckily, we managed to get it all together."
This is why Flemish movies travel so well. We have very personal movies, our own genre, and at the same time it has a broad appeal. Without the funds, we would not be able to do this movie, nor Black, or get our ticket to Hollywood to begin with.
Adil El Arbi
To show Rebel in Cannes, that's maybe the best thing in my life to date.
Bilall Fallah
ISIS, poetry and music
Rebel is a film about two brothers from Belgium, who are drawn into the conflict, as the war in Syria spirals out of control. Co-director Bilall Fallah explains that they did a lot of research for the movie, as it was dangerous to make a movie about ISIS. It was extremely important that they had all these nuances and authenticities right.
"Music and poetry are such an important aspect of Islamo-Arab culture. People tend to forget that when we talk about the subject matter of ISIS and Syria." - co-director Adil El Arbi clarifies. "We grew up with that culture, with that Arabic poetry which is beautiful and very lyrical. And ISIS was against music, and against female voice. So if you're gonna make a movie that's an indictment of ISIS, using a musical as a genre seems the most appropriate type."
Enter the music of composer Hannes De Maeyer (in collaboration with Oum and Aboubakr Bensaihi) and the choreography of Sidi Larbi Cherkaoui. Film composer De Maeyer compares himself to a chef in the kitchen, who can use a lot of different spices. "It's nice to colour the music, to add some spices to it. With Rebel, I'm using a lot of ethnic soloists, and typical musical instruments. For instance a duduk, which is an Armenian instrument, and an oud, which is an Arabic guitar." Sony music has released the original soundtrack of Rebel, which you can listen to on various platforms.
Rebel © Caviar
And what about the future?
Will it be Belgium or Hollywood for Adil and Bilall? Bilall Fallah hints at a tip of the hat.
We will always come back to our roots and tell stories there. There is still a lot to make.
Bilall Fallah